COD, BACALAO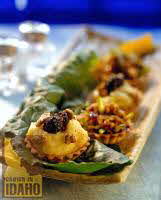 Yield: 24 servings
INGREDIENTS:
• 2 ea. Idaho russet potato, peeled and boiled until soft
• 1/4 lb. Salt cod, soaked 24 hours in water, then drained, rough chop
• 3 T. Spanish onion, fine dice
• 2 T. Extra virgin olive oil
• 2 T. Garlic, finely chopped
• 1 qt. Whole milk
• 1 cup heavy cream
• 2 T. Cured black olives, pitted.
• 2 T. Grain mustard
• 1 T. White truffle oil
• Salt & pepper to taste - be careful
• 24 ea. Bread crouton or mini tart

DIRECTIONS:
1. Sautee the onion in olive oil until soft. Add the garlic, Potato, and cod, and cook until the completely mixed through.

2. Slowly add the milk and cream, be careful not to burn, keep the heat low. The mixture should look like mashed potatoes.

3. Cool slightly (about 10 minutes at room temperature). Puree the mixture in a food processor until smooth. It should increase in volume. Add in mustard and truffle oil salt and pepper to taste.

4. Serve hot or cold using the olive as garnish. Fill the Tarts and reheat in the, oven or chill and spread on a crouton.

Idaho Potato Commission: www.idahopotato.com