CATFISH CAKES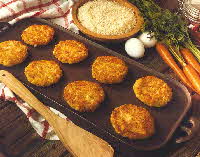 Yield: Makes 10 servings.
INGREDIENTS
• 1/4 cup grated carrots
• 1/4 cup finely chopped green onions
• 2 tablespoons butter or margarine
• 1/2 cup fish fry coating mix
• 1/2 cup cornbread mix
• 1 teaspoon baking powder
• 1 teaspoon creole seasoning
• 1/4 teaspoon ground black pepper
• 1/3 cup milk
• 1 egg, separated
• 1/4 to 1/2 teaspoon hot pepper sauce
• 1 cup cooked rice
• 1/2 pound farm-raised catfish fillets, cooked and flaked
• 1 tablespoon vegetable oil

DIRECTIONS
Cook carrots and onions in butter in small skillet over medium heat until tender crisp; set aside.

Combine fish fry coating mix, cornbread mix, baking powder, creole seasoning, and black pepper in large bowl.

Blend milk with egg yolk and hot pepper sauce; stir rice, fish, carrot mixture, and milk mixture into dry ingredients.

Beat egg white until stiff but not dry.
Fold in beaten egg white.

Heat oil in large skillet over medium-high heat.

Drop batter by 1/4 cup into skillet; flatten with back of spoon.

Turn cakes when golden brown.

Drain on paper towels.

Nutrition Facts
Calories 129
Total Fat 6g
Cholesterol 43mg
Sodium 331mg
Total Carbohydrate 14g
Dietary Fiber 1g
Protein 4g

USA Rice Federation www.usarice.com