CORNED BEEF BRISKET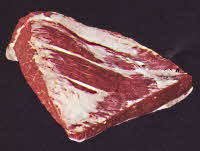 Plenty
by Diana Henry
I love corned beef but it seemed a lot of bother to make until I tried it. It was simple. You'll get a feast from an inexpensive cut with plenty left for sandwiches.
Serves 10, with leftovers

INGREDIENTS
For The Brine
• 1 lb light brown sugar
• 3 1/3 lb coarse sea salt
• 2 tsp black peppercorns
• 2 tsp juniper berries
• 4 cloves
• 4 bay leaves
• 2 thyme sprigs
• 3 tbsp saltpeter (optional)

For The Beef
• 6½ lb beef brisket
• 1 bouquet garni
• 1 large carrot, coarsely chopped
• 1 onion, coarsely chopped
• 1 celery stem, coarsely chopped
• 1 leek, cut into chunks
• 1/2 head of garlic

DIRECTIONS
1. Put all the brine ingredients, with 5 quarts water, into a very large saucepan and bring to a boil, stirring. Bubble for 2 minutes. Cool completely. Put the beef in a large, crock and cover with brine. (Weigh it down if necessary.) Leave in a cool place for 7 days.

2. Take the beef from the brine and soak in fresh water for 24 hours, changing the water a couple of times. Put in a pan with the other ingredients and cover with water. Poach gently for 2½--3 hours until tender. Serve with Piccalilli (see below), and boiled potatoes.
PICCALILLI
Makes 3 x 12 oz jars
• 2¼ lb vegetables, including summer squash, cucumber, green beans, baby onions, cauliflower, and carrot
• 3 tbsp fine salt
• 1/4 cup cornstarch
• 1½ tsp English mustard powder
• 1 tbsp ground turmeric
• 1½ tsp yellow mustard seeds
• 1½ tsp ground ginger
• 1 tsp crushed coriander seed
• 2½ cups cider vinegar
• 1 cup light brown sugar
1. Halve the summer squash and cucumber, scoop out the seeds, and cube. Trim and halve the beans. Halve the onions, break the cauliflower into florets, and cube the carrots. Layer in a large bowl, sprinkling with salt. Cover and leave for 24 hours. Rinse and drain.

2. Mix the cornstarch and spices with a little vinegar to make a paste. Put the rest of the vinegar in a saucepan with the sugar and bring to the boil, stirring to dissolve the sugar. Pour some of the liquid (about 1/4 cup) over the paste, stir, and back add to the pan.

3. Bring gently to a boil so the sauce can thicken. Boil for 4 minutes. Add the vegetables, stir, and simmer for 2 minutes. Ladle into warm sterilized jars, seal, and store in the refrigerator. Leave for 4 weeks before eating.