CALIFORNIA AVOCADO OATMEAL COOKIES WITH RAISINS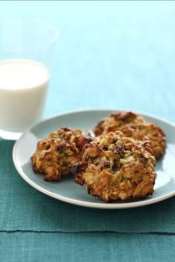 Prep Time: 15 minutes
Cooking Time: 40 minutes
Total Time: 55 minutes
Makes: 24 cookies

Ingredients
• 1½ cups old-fashioned oats
• 1 cup all-purpose flour
• 1/2 tsp. baking powder
• 1/2 tsp. baking soda
• 1 (4-oz.) stick unsalted butter at room temperature
• 1/2 cup packed dark brown sugar
• 1/4 cup sugar
• 1 egg
• 1 ripe, fresh California avocado, peeled and seeded
• 1¼ cups raisins

Instructions
1. Preheat oven to 325°F. Arrange oats on a small baking sheet and toast, stirring occasionally, until fragrant and golden, about 20 minutes; cool.

2. Increase oven heat to 350°F. Line two large baking sheets with a nonstick silicon mat or aluminum foil, shiny-side up.

3. Sift flour, baking powder and baking soda together into a small bowl; set aside.

4. Cream butter in the large bowl of an electric mixer on medium speed. Gradually mix in brown and white sugars, stopping as necessary to scrape down the sides of the bowl. Add egg, increase speed to high and beat until well mixed. Add avocado to the bowl and beat until incorporated. Reduce mixer speed to low, and mix in flour mixture and oats. Stir in raisins. If an electric mixer is unavailable, use a sturdy wooden spoon or spatula to add and mix the ingredients.

5. Use two level tablespoons of batter to form each cookie and place them about 1½ inches apart on the prepared sheet. (The cookies will not spread.) Slightly flatten and shape each cookie into a 2½-inch round.

6. Bake until browned, about 20 minutes. Transfer the cookies to a rack to cool. Store in a covered container.
Tip: Dough can be prepared several days in advance, covered and refrigerated before it is formed and baked.
Nutrition Information Per Serving: Calories 120; Total Fat 5 g (Sat 2.5 g, Trans 0 g, Poly 0.3 g, Mono 1.7 g); Cholesterol 20 mg; Sodium 45 mg; Total Carbohydrates 19 g; Dietary Fiber 1 g; Protein 1 g