Manischewitz All Natural Ready to Serve Broth
Nationwide Product Launch
Made Like Homemade….Tastes Like Homemade
Moroccan Meatball Recipe
(September 2009) Manischewitz® the leading brand in specialty kosher foods for over 120 years, brings fresh and exciting news to the broth category with the introduction of their all-natural line of Ready To Serve Broth. Available in three flavors, Chicken, Reduced Sodium Chicken and Beef these delicious broths are debuting just in time for the Fall and Winter Holiday Season.

Produced to meet the needs of consumers who are looking for all natural, high quality products, Manischewitz new line of broths are made from a cherished family recipe that includes real kosher chicken and beef, natural spices and vegetables; then slow cooked in small batches to deliver that homemade taste.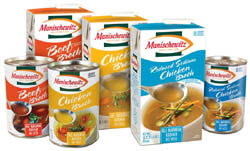 These delicious broths hit the supermarket shelves at the perfect time. With Rosh Hashanah right around the corner and Thanksgiving not far behind, consumers are planning for gatherings with family and friends. Whether they use Manischewitz ready to serve broth as a base for soups or as a key ingredient in holiday recipe favorites, home cooks will realize that NOT all broths are created equal.

"With the soup category on the rise and the broth category up by 11.4%, Manischewitz is delighted to introduce a kosher broth line that is both healthy and delivers exceptional flavor," says David Rossi, Vice President of Marketing, for The Manischewitz Company. "Additionally, as kosher foods continue to gain momentum, the timing is perfect to introduce our broth nationwide."

Available in both easy to open 14 ounce cans and easy to pour 32 ounce reusable cartons, these wholesome broths can be found in the kosher and soup section of supermarkets nationwide. Suggested retail price for the everyday can is $1.69 and $2.99 for the carton.

Also, be sure to enter your favorite recipes for the 4th Annual Manischewitz Cook-off! Entries will be accepted from September 15, 2009 through January 31, 2010 for a chance to win an all expense paid trip to compete live in New York City on March 18, 2010 and $25,000 in prizes including a state of the art GE Appliances.

About The Manischewitz Company: The Manischewitz Company is a leader in the Kosher Foods category providing delicious, premium specialty ethnic food products ranging from traditional Eastern European selections (Gefilte Fish, Noodles, Matzo Ball Soup, and Borscht) to the most comprehensive Kosher-For-Passover product line globally (Matzos, Cake Mixes, Macaroons, Baking Ingredients to a complete line of grocery products). The company markets well known brands such as, Manischewitz®, Season®, Rokeach®, Guiltless Gourmet®, Horowitz Margareten®, Mishpacha®, Goodman's®, Mrs. Adler's®, Mother's®, Carmel®, Croydon House®, Jason® and Asian Harvest®.