SEEDS OF CHANGE 20TH ANNIVERSARY
20 Years of Biodiversity Preservation
The Seeds Of Change® mission is to preserve biodiversity and promote sustainable organic agriculture practices. Founded in 1989 as an organic seed company committed to preserving countless heirloom and traditional seed varieties and reintroducing them back into society's food supply, the brand still follows its central mission in its twentieth anniversary year.

In fact, the brand's USDA Certified Organic foods are made exclusively with organically grown vegetables and herbs and are inspired by cultures and flavors from around the globe.

Today, more than a thousand varieties of organic plants are grown annually at the Seeds Of Change® Research Farm and Gardens in Santa Fe, N.M.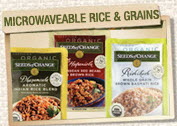 INNOVATIVE PRODUCTS
Seeds Of Change® has spent the past decade exploring the globe in search of new and exotic tastes. It continues to hunt for the most uniquely flavorful, nutritious and authentically genuine recipes from around the world. As a result, the company offers an abundance of intriguing choices to surprise the palate, including: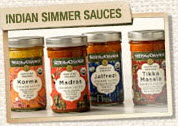 • Microwavable Rice & Grains
• Dry Rice & Grain Blends
• Indian Simmer Sauces
• Pasta Sauces
• Salad Dressings
• Frozen Entrées
All Seeds Of Change® products show the USDA Certified Organic symbol to help shoppers easily identify foods to include in an organic lifestyle.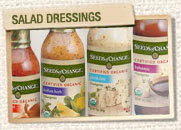 COMMITMENT TO SUSTAINABILITY
Seeds Of Change® is firmly committed to spreading the word about recycling, whether it is repurposed, reused or renewed. The brand works to reduce its carbon footprint. Below are a few examples of its dedication:
• In order to support and further its mission, Seeds Of Change® directly contributes 1 percent of net sales to advance the cause of sustainable organic agriculture worldwide. Seeds Of Change® partners with several organizations, such as Conservation International and the Organic Farm and Research Foundation, on programs that help preserve the world's biodiversity and organic agriculture.

• Seeds Of Change® takes recycling one step further by partnering with Ecoist® to turn its empty packaging into fashion accessories. Microwavable Rice pouches are converted into colorful purses, as seen to the left. For more information about how to recycle Seeds Of Change® packaging, visit seedsofchangefoods.com.

• In an effort to reduce the Seeds Of Change® carbon footprint, the Dry Rice & Grain Blends' cartons are printed using wind energy.

• In 2009, Seeds Of Change® partnered with TerraCycle to repurpose waste packaging from its operations into products ranging from cell phone holders and laptop sleeves to messenger bags, significantly reducing the amount of waste sent to landfills.
AVAILABILITY
Seeds Of Change® products are available at specialty and select grocery stores nationwide. For a store near you, check the locator at seedsofchangefoods.com/store_locator.aspx or call 888-762-4240.

More Information
For more information about Seeds Of Change®, tips to lead a greener lifestyle, products, recipes, and nutritional information visit seedsofchangefoods.com