PickleSickle Pickle Juice Frozen Treats
It's an increasingly popular novelty snack treat that may sound a bit hard to swallow. But PickleSickles pickle juice treats are growing in popularity nationally and providing unexpected health benefits for kids, adults and seniors alike. PickleSickles are uniquely packaged frozen treats made, not from just the brine left over from pickling, but from freshly squeezed pickles, much like an apple or orange is pressed.

"We use 100% of the pickle," says PickleSickle Co-Founder David Millar. "We realize it is hard to imagine that someone thought of the idea of creating a frozen treats made from pickle juice," he says. "But once people try them they are hooked – and we are happy to supply them with this refreshing treat."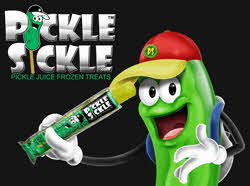 The name PickleSickles was created by John Howard owner of Outerskate roller skating rink and arcade in Seguin, Texas. He has been freezing pickle juice for the kids and adults and sells out every night. Surprised by the sales, he decided there was a market worth investigating. The company is also creating flavored PickleSickles such as cherry, lemon-lime that have proven to be very popular. The company is also catering to the cravings of expectant mothers with this unique sour snack. But it isn't just to quench the craving, it is to provide the heretofore little-known health benefits of pickle juice for anyone from kids to pregnant women to diabetics.

A recent study revealed that pickles blunted the blood-sugar spike by as much as 30% after a high-carb meal. Studies revealed that vinegar, much like that used in the pickling process, provided a balancing benefit to combat harmful insulin spikes. The spices used in the pickling process are also healthy. Pickling ingredients like garlic and dill help to control the growth of unhealthy bacteria in the body. And many other spices involved in the pickling have been known to have wide-ranging health properties as well. PickleSickles have no fat and have less than 1 gram of sugar.

The company is also branding a line of PickleSickle characters such as PickleSickle Bob to help spread the news about this unique new product line and its healthy attributes to give kids a more nutritious snack alternative than sugary sweets.

PickleSickles come in packages of 16 and sell for $17.95 including shipping on the internet.

For additional information visit www.picklesickle.com