Muir Glen's New Organic Pasta Sauces & Soups
Muir Glen Introduces New Chef Inspirations Organic Soup And Pasta Sauce Flavors With Meat!
(October 24, 2008)
The leader in organic pasta sauces, soups and tomatoes, Muir Glen introduces the first USDA-Certified organic meat pasta sauces and vodka pasta sauce distributed nationally as well as three new meat soup flavors that are sure to please.

Premium Organic Meat And Vodka Pasta Sauces First To Market
* Recommended by Chef James of Foodreference.com
I recently tried the Muir Glen Italian Sausage with Peppers Organic Pasta Sauce and it is by far the BEST canned sauce I have ever tasted. No other can or jar of sauce I have ever tried even comes close. Muir Glen gets my highest praise for quality and taste. It will be a staple in my own pantry now.

Muir Glen has expanded its organic pasta sauce portfolio by offering the first organic pasta sauces with meat—Beef Bolognese and Italian Sausage with Peppers. The Beef Bolognese combines premium-quality organic tomatoes and organic beef seasoned with spices, sea salt, rosemary, fennel and other organic herbs for a savory sauce.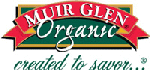 Those looking for organic pasta sauce with a kick will love the Italian Sausage with Peppers (Sausage & Pepper Pasta with Feta Recipe Below). The vine-ripened juicy tomatoes are perfectly matched with the finest organic pork seasoned with brown sugar, rosemary and spices combined with peppers and a variety of herbs. Add the sauce to your favorite pasta or try Sausage and Pepper Pasta with Feta tonight. This dish can be prepared in 30 minutes and combines fresh vegetables, including bell peppers and zucchini, tossed with pasta sauce and topped with feta cheese. Serve with a tossed salad and your favorite artisan bread and it's a gourmet meal family and friends will love.

Home cooks can enjoy the new organic vodka pasta sauce, the first of its kind distributed nationally. The Muir Glen Vodka Pasta Sauce satisfies the distinguished palate with tomatoes rich and flavorful, combined with ricotta and Parmesan cheese, fresh organic herbs and a hint of garlic.

"Good cooks know that great ingredients are the key to great food. Our tomatoes are grown organically with care so you know you'll get true to nature tomato taste," said Amber Holm, Muir Glen marketing manager. "Even people who love to cook rely on good tasting, convenient foods in their kitchens, so these new Muir Glen pasta sauces give them more delicious choices that meet their flavor expectations."
Soups On! More Organic Flavors With A Kick.
Muir Glen is adding a bit of zest to its organic ready-to-eat soups with Chicken Tortilla, Chicken Gumbo and Beef Barley.

The spicy Chicken Tortilla Soup features bold flavor combinations of tender pieces of organic chicken, green bell peppers, onions, black beans and spices.

Bringing a little Cajun-style to the line, Muir Glen's Chicken Gumbo combines bell peppers, rice, celery, and Okra seasoned with a variety of spices to give a touch of heat.

A classic favorite, the Beef Barley has been re-created by adding hearty chunks of roasted organic beef with celery, peas, tomatoes and corn for mouth-watering appeal.

"These satisfying and convenient soups are just right for lunch or when you don't have a lot of time for dinner," added Holm. "More and more people are looking for meat options without added growth hormones or antibiotics, so they can feel good about choosing these soups that fit their lifestyle and really taste great."

The Muir Glen organic pasta sauces and soups are available now in supermarkets and natural food stores nationwide.

The suggested retail price of the 25.5-ounce jars of Muir Glen Pasta Sauce is $5.19 and the suggested retail price of the 18.2-18.75-ounce cans of Muir Glen Organic Soup is $3.19. The soups, each with an easy-to-open lid, can be prepared on the stove top or heated in the microwave and ready in minutes.
For more information on Muir Glen's premium foods and delicious recipes, visit www.muirglen.com.

RECIPE
SAUSAGE AND PEPPER PASTA WITH FETA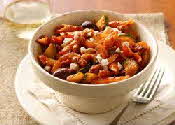 Prep Time: 30 Minutes
Start to Finish: 30 Minutes
6 servings (1 1/2 cups each)


Ingredients
• 3 3/4 cups uncooked penne or rigatoni pasta (12 oz)
• 2 tablespoons olive oil
• 1 small onion, halved, cut into thin wedges
• 1 medium yellow or green bell pepper, coarsely chopped
• 1 medium zucchini, cut in half lengthwise, then cut crosswise into slices
• 1 jar (25.5 oz) Muir Glen® organic Italian sausage with peppers pasta sauce
• 1/3 cup halved pitted kalamata olives
• 3/4 cup crumbled feta cheese (3 oz)


Directions
1. In 5-quart saucepan or Dutch oven, cook pasta as directed on package. Drain; return to saucepan. Cover to keep warm.

2. Meanwhile, in 12-inch skillet, heat oil over medium heat. Add onion, bell pepper and zucchini; cook 8 to 10 minutes, stirring occasionally, until vegetables are tender. Stir in pasta sauce and olives. Cook, stirring occasionally, until thoroughly heated.

3. Pour sauce mixture over pasta in saucepan; toss to coat. Place in serving bowl; top with feta cheese.

High Altitude (3500-6500 ft): No change.

Nutrition
1 Serving:
Calories 470 (Calories from Fat 110); Total Fat 12g (Saturated Fat 4g, Trans Fat 0g); Cholesterol 15mg; Sodium 890mg; Total Carbohydrate 74g (Dietary Fiber 6g, Sugars 9g); Protein 16g
% Daily Value: Vitamin A 20%; Vitamin C 40%; Calcium 15%; Iron 25%
Exchanges: 4 Starch, 2 Vegetable, 2 Fat
Carbohydrate Choices: 5

---------