WHEAT BERRY SALAD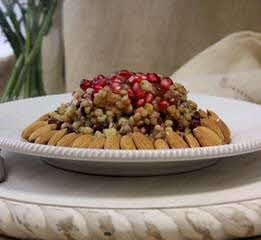 INGREDIENTS
• 1 lb. Wheat Berries
• ½ lb. Roasted Almonds
• ½ lb. Pomegranate Seeds
• ½ lb. Walnuts
• ½ lb. Dried Cranberries
• ½ lb. White Raisins
• ½ lb. Black Raisins
• 1 tsp of Cinnamon
• ½ tsp Ground Cloves
• 10 tsp Sugar
• 3 tsp Sesame Seeds

DIRECTIONS
• Bring a large pot of water to a full boil and lightly salt.

• Add wheat berries and reduce heat to a fast simmer and cook until the wheat berries are tender but still chewy (about 1 hour).

• Pour wheat berries in a bowl and mix with the rest of the ingredients.

• Mix well and let sit for one hour.

* Recipe courtesy of Maria Zoitas, creator of 'Maria's Homemade' line of prepared food sold exclusively at Westside Market NYC www.wmarketnyc.com/