LAYERED TOFU SALAD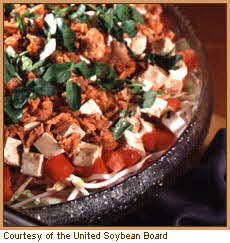 Yield: 12 servings
INGREDIENTS
• Shredded iceberg lettuce 1-1/2 gallons (2 large heads)
• Red onions, thinly sliced 1 lb. 8 oz. (3 medium)
• Bean sprouts 3 qt. (48 oz.)
• Tomatoes, 1/2 inch cubes 2 lb. 14 oz. (9 medium)
• Silken tofu, 1/2 inch cubes 3 lb
• Canned red salmon or light tuna 1 lb. 8 oz.
• Watercress, cut in 1-inch pieces optional 3 cups (3 oz.)
Warm Soy Sauce Dressing
Soy sauce 1 cup
Soybean oil 3/4 cup
Green onions, minced 1-1/2 cups
Garlic, mashed 9 cloves
Sugar 1-1/2 teaspoons
Bottled hot pepper sauce 3/4 teaspoons
METHOD
For buffet service, layer salad ingredients in order of listing in a large shallow bowl or serving platter.
Just before serving, heat ingredients for Warm Soy Sauce Dressing. Toss salad and serve.

For table service, toss salad and serve about 2 cups per serving.
Garnish with choice of cherry tomatoes, sliced red onions, sweet red or yellow peppers, sugar pea pods or sliced cucumbers.
United Soybean Board - www.talksoy.com/