TOFU VEGETABLE SALAD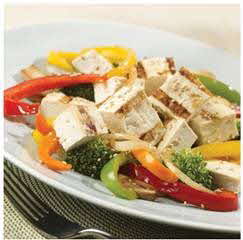 INGREDIENTS
· 3 tablespoons soy sauce
· 1 tablespoon mirin
· 1 tablespoon sesame oil
· 1 tablespoon vinegar
· 1 14-ounce package extra-firm tofu, drained and cut into 1-inch cubes
· 1 tablespoon vegetable oil
· ½ onion, thinly sliced
· 2 garlic cloves, minced
· 1 green, yellow, orange or red pepper or combination, seeded and sliced
· ½ cup broccoli florets, blanched
· 1 tablespoon sesame seeds

DIRECTIONS
· Put soy sauce, mirin, oil and vinegar in shallow dish.

· Add tofu and marinate 15 minutes, turn, and marinate additional 15 minutes.

· Heat grill pan over high heat and add tofu and cook, turning once; do not discard marinade.

· Heat oil in skillet and add onion and garlic and cook just until soft.

· Add the peppers, broccoli, tofu and marinade and stir fry, tossing frequently for 3 to 5 minutes.

· Sprinkle on sesame seeds before serving.

* Recipe courtesy of Maria Zoitas, creator of 'Maria's Homemade' line of prepared food sold exclusively at Westside Market NYC www.wmarketnyc.com/