STRAWBERRY AND STILTON SALAD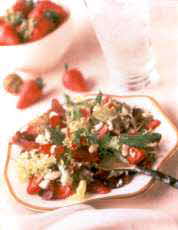 Yield: 4 servings
Ingredients:
• 2 cups sliced strawberries
• 2 tablespoons chopped fresh basil
• 2 tablespoons raspberry vinegar
• 1/2 teaspoon sugar
• 1 teaspoon olive oil
• 1 teaspoon water
• 4 cups mixed salad greens
• 1 ounce crumbled Stilton cheese or feta cheese
• French bread (optional)

Directions:
Combine first 4 ingredients in a medium bowl; toss well to coat.

Cover and refrigerate 1 hour.

Strain mixture through a sieve into a jar, reserving liquid. Set aside strawberries. Add oil and water to jar. Cover tightly, and shake vigorously.

Arrange 1 cup greens onto four individual salad plates. Top with 1/z cup berries, 2 teaspoons dressing and 1-tablespoon cheese.

Serve with French bread, if desired.
Recipe courtesy of the California Strawberry Commission