TOFU - ASIAN TOFU SALAD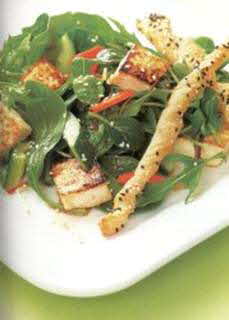 Reprinted from The EatingWell Healthy in a Hurry Cookbook: 150 Delicious Recipes for Simple, Everyday Suppers in 45 Minutes or Less by Jim Romanoff and the Editors of EatingWell Magazine

Makes 4 servings.
Active Minutes: 25
Total: 25 minutes

The best thing about tofu -- besides its nutritional value -- is the way it carries other flavors, such as the tanginess of this sesame dressing. Serve this warm salad with crunchy breadsticks and a tall glass of iced jasmine tea.

• 3 tablespoons canola oil
• 2 tablespoons rice vinegar
• 1 tablespoon honey
• 2 teaspoons reduced-sodium soy sauce
• 1 teaspoon toasted sesame oil
• 1 teaspoon minced fresh ginger
• 1/2 teaspoon salt
• 1 14-ounce package extra-firm, water-packed tofu, rinsed, patted dry and cut into 1-inch cubes
• 8 cups mixed salad greens
• 2 medium carrots, peeled, halved lengthwise and sliced
• 1 large cucumber, chopped


1. Whisk canola oil, vinegar, honey, soy sauce, sesame oil, ginger and salt in a bowl.

2. Place tofu and 2 tablespoons of the dressing in a large nonstick skillet. Cook over medium-high heat, turning every 2 to 3 minutes, until golden brown, 12 to 15 minutes total. Remove from the heat, add 1 tablespoon of the dressing to the pan and stir to coat.

3. Toss greens, carrots and cucumber with the remaining dressing. Serve immediately, topped with the warm tofu.

To Make Ahead: The dressing (Step 1) will keep, covered, in the refrigerator for up to 2 days. Whisk just before using.

Per Serving: 237 calories; 16 g fat (2 g sat, 8 g mono); 0 mg cholesterol; 16 g carbohydrate; 11 g protein; 5 g fiber; 454 mg sodium.
Nutrition Bonus: Vitamin A (180% daily value), Folate (41% dv), Vitamin C (38% dv), Calcium (29% dv).
Healthy Weight - Lower Carbs - High Fiber
Copyright © 2006 by Eating Well, Inc.