Vegetarian Mushroom & Spinach Pizza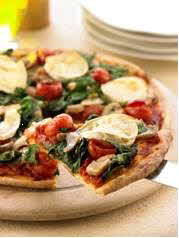 A Canned Food Week UK recipe from the Vegetarian Society. Canned Food UK has recipes to help you get over the mid-week slump. Our Vegetarian Pizza includes delicious ingredients such as canned cherry tomatoes and canned sliced mushrooms, coupled with fresh goats cheese, so you can kick back after a long day at work and literally veg-out!
Serves: 4
Preparation Time: 10 minutes
Cooking Time: 10 minutes
Ingredients
· 1 Tbsp oil
· 1 onion chopped
· 2 cloves garlic, finely chopped
· 400g can of chopped tomatoes with basil
· 400g can of cherry tomatoes
· 2 Italian readymade pizza bases
· 100g pack ready washed spinach
· 300g can sliced mushrooms, drained
· 125g goat's cheese, sliced
Method
• Preheat oven to fan 180°C, conventional 200°C, gas 6.
• Heat the oil in a deep sided frying pan or wok.
• Add the onion and fry until soft, add garlic and continue frying for 1 minute.
• Add chopped tomatoes and the juice from the cherry tomatoes, reserving the whole tomatoes. Simmer to reduce to a thick tomato paste, and then gently stir in cherry tomatoes.
• Spread the tomato sauce over the pizza bases.
• Cook the spinach as pack instructions, until just wilted.
• Arrange mushrooms over the pizza, top with the spinach and goat's cheese.
• Bake for 10 minutes to heat through.
Hints and Tips
Pizza will freeze well for up to 1 month.
Nutrition Information (per serving)
· Calories: 407
· Protein: 17
· Carbs: 44.0g
· Sugars: 7.0g
· Fat: 18.0g
· Sat Fat: 6.0g
· Fibre: 4.0g
· Sodium: 542.0mg

Canned Food UK will be running the 2nd Canned Food Week April 14-20, 2014. (www.cannedfood.co.uk/cannedfoodweek)