SHRIMP PIZZA PANINI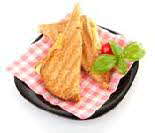 Serves: 2
Ingredients:
• 1 can (6-oz.) tiny shrimp, drained
• ½ cup pre-shredded part-skim mozzarella cheese
• 3 tablespoons pasta sauce
• 1 tablespoon prepared pesto sauce
• 2 teaspoons extra virgin olive oil
• Four slices (1/2-inch-thick) Italian bread (about 5 x 2½ inches)

Instructions:
Preheat the Panini grill on high heat.

Combine the shrimp, cheese, pasta sauce, and pesto in a bowl and set aside.

Lightly brush one side of each slice of bread with olive oil.

Place two slices of bread on the work surface, oiled side down. Divide the shrimp mixture evenly between the bread. Top with the remaining slices of bread, oiled side up.

Place sandwiches in the Panini press and cook until golden brown, about 5 minutes.

Slice each sandwich in half and serve.
Nutrition Information:
290 calories, 16g fat (6g saturated, 0.5g omega-3), 730mg sodium, 14g carbohydrate, 1g fiber, 22g protein, 35% calcium, 15% iron

Recipe Courtesy of: The Shrimp Council and Janice Newell Bissex, MS, RD & Liz Weiss, MS, RD Cofounders, Meal Makeover Moms.com
Image Courtesy of: © Sandra van der Steen - Fotolia.com