WISCONSIN RED GOLD POTATO, RACLETTE & TRUFFLE PIZZA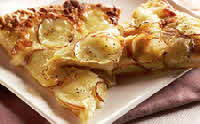 "Using the right ingredient, the right way, is crucial when creating amazing food combinations. In this pizza, it is important that the selected potato is sliced paper-thin to ensure a crisp texture creating a rich, warm color and enough sweetness to complement the earthy richness of the truffles.
Our chefs enjoy selecting the perfect potato for each recipe and at the same time supporting Wisconsin farmers who offer many specialty varieties of potatoes."
Executive Chef Ulrich Koberstein, The American Club, Kohler WI
YIELD: 2 servings

INGREDIENTS:
• ¼ lb. Wisconsin Red Gold or baby red potatoes
• 1 12-inch pizza crust
• ½ cup raclette cheese, grated
• ¼ cup mozzarella cheese, grated
• Coarse salt and fresh cracked pepper to taste
• 3 Tbsp. olive oil
• ½ oz. white truffles (or substitute a bit of white truffle oil)

PROCEDURE:
1. Slice potatoes on finest setting of slicer or mandoline. Slices should be translucent when held up to the light.

2. Place slices in bowl of cold water for 2 hours to remove the starch.

3. Drain and rinse again in fresh water, pat dry with paper towels.

4. Preheat oven to 450° F.

5. Cover pizza crust with the grated cheeses.

6. Cover with potato slices; season with salt and pepper.

7. Drizzle with olive oil and bake until crust is done and potatoes are crispy, about 8-10 minutes.

8. Generously shave truffles over top of baked pizza, or drizzle with true oil. Serve immediately.

Wisconsin Potato & Vegetable Growers Association
www.wisconsinpotatoes.com