CALIFORNIA STYLE PIZZA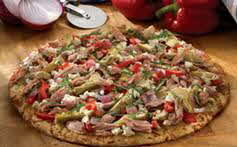 Ingredients
• 1 pouch (6.4oz.) StarKist® Chunk Light Tuna in Oil
• 1 large prepared pizza crust
• 2 tbsp.olive oil
• 1 garlic clove, minced
• 1 jar (6 oz) marinated artichoke hearts
• ½ red bell pepper, sliced
• ½ red onion, sliced
• 1 cup Feta cheese, crumbled
• ¼ cup fresh basil, chopped (or 1 Tablespoon dried basil)

Directions
1. Preheat oven to 450 °F.

2. Place pizza crust on baking sheet.

3. Heat olive oil in small skillet over medium heat. Add garlic and sauté 30 seconds (do not burn).

4. Spread sautéed garlic oil over pizza crust. Spread flaked tuna over crust evenly. Top with red peppers, artichokes, red onion and feta cheese. Sprinkle with basil.

5. Bake 8 – 10 minutes. Cut into wedges and serve.

*Recipe courtesy of StarKist