BASIL AND SUN DRIED TOMATO PIZZA CRUST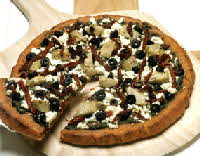 Servings: 10 slices
Ingredients:
• 2½ cups bread or all-purpose flour, divided
• 1 tablespoon sugar
• 1 teaspoon yeast
• 1 teaspoon salt
• 1 tablespoon dried basil
• 1 cup very warm water (120 to130 degrees)
• 1 tablespoon olive oil or vegetable oil
• 1/3 cup chopped sun-dried tomatoes

Directions:
Preheat oven to 400°F.

In medium bowl combine 1 cup flour, sugar, yeast, salt and basil; mix thoroughly. Add water, oil and sun-dried tomatoes. Stir until almost smooth. Gradually add enough flour to form a firm dough. Turn dough onto a lightly floured board. Knead dough about 3 to 5 minutes, adding flour as needed, until not sticky. Place dough in a sealable bowl or plastic bag sprayed with cooking spray. Let rest 45 minutes. (This can be refrigerated up to 24 hours.)

Coat pizza pan with cooking spray. Pat or roll out dough to fit pizza pan, forming a slight edge on the dough. Prick holes in dough, oil lightly and bake for 10 to 15 minutes. (Dough should be set but not brown.)

Top with your favorite toppings. Bake for 15 minutes or until heated through.

Nutrition:
Each slice with Mediterranean Pizza toppings provides approximately: 260 calories, 10 g protein, 29 g carbohydrates, 3 g fiber, 13 g fat (5 g saturated), 19 mg cholesterol, 80 mcg folate, 3 mg iron, 608 mg sodium.

Recipe courtesy of the Wheat Foods Council