SPIRITED PORK TENDERLOIN WITH FIG AND CHIPOLTE ONIONS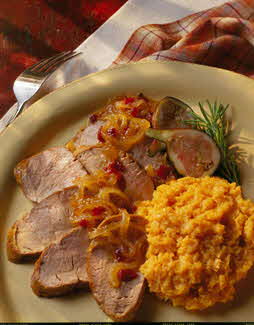 Serves 4.
Ingredients
• 1 whole pork tenderloin, about 1 pound
• 1 cup fig jam or preserves, divided
• 1/4 cup dark rum, divided
• 2 tablespoons olive oil, divided
• 1 tablespoon spicy brown mustard
• 1 clove garlic, minced
• 4 cups thinly sliced sweet onions
• 1 tablespoon minced canned chipolte chiles in adobe sauce *

• Salt and pepper to taste
• 1/4 cup chopped red bell pepper
• Fresh sliced figs (optional)

Cooking Directions
Heat oven to 400 degrees F.
Spray a 13x9-inch baking pan with nonstick cooking spray; set aside.

Combine 1/2 cup jam, 2 tablespoons rum, 1 tablespoon oil, mustard and garlic; spread over pork tenderloin. Place tenderloin in prepared pan and roast 20-25 minutes, until meat thermometer interted reads 155 degrees F.
Let tenderloin stand 5 minutes before slicing diagonally into 1/4-inch slices.

Meanwhile, heat remaining tablespoon oil in large skillet over medium-high heat. Saute onions about 5minutes, stirring, until soft. Stir in remaining jam, rum and chipolte peppers. Reduce heat to medium. Cook, uncovered, 10 minutes or until slightly caramelized, stirring occasionally. Salt and pepper to taste.

Serve sliced pork with onion mixture. Sprinkle red peppers over both. Garnish platter with fresh sliced figs, if desired.

*Always wear rubber gloves when handling hot chiles.

Serving Suggestions
Quick and easy to prepare, makes this healthy dish a great for special occasions. Some markets it is easier to find fresh figs. Serve with mashed sweet potatoes and asparagus.

Nutrition Facts
Calories 530 calories; Protein 26 grams; Fat 11 grams; Sodium 230 milligrams; Cholesterol 75 milligrams; Saturated Fat 2 grams; Carbohydrates 64 grams

Recipe and photo courtesy of National Pork Board. For more information about The Other White Meat, visit TheOtherWhiteMeat.com