APPLE-PECAN TENDERLOIN MEDALLIONS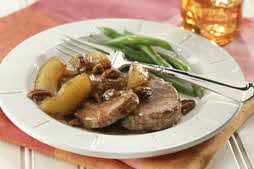 Makes 4 servings.

Ingredients
• 1 pound pork tenderloin
• 2 tablespoons butter
• 1 (16 oz.) can sliced apples, drained
• 1/4 cup packed brown sugar
• 1/2 cup chopped pecans

Cooking Directions
Trim fat from pork. Cut pork into 1/2-inch-thick slices.

Melt butter in a large skillet over medium-high heat until it sizzles.
Reduce heat to medium.

Arrange pork slices in skillet. Cook for 2 minutes; turn slices.

Spoon apples over pork.

Sprinkle with brown sugar and pecans.

Cover and cook for 4 to 6 minutes more.

Serving Suggestions
This quick dinner from Ann Council is perfect for a fall week night. Serve with steamed grean beans and a crusty bread.

Nutrition Facts
Calories 498 calories; Protein 26 grams; Fat 23 grams; Sodium 129 milligrams; Cholesterol 93 milligrams; Saturated Fat 6 grams; Carbohydrates 46 grams; Fiber 4 grams

Recipe and photo courtesy of National Pork Board. For more information about The Other White Meat, visit TheOtherWhiteMeat.com