APPLE & POTATO WRAPPED PORK TENDERLOIN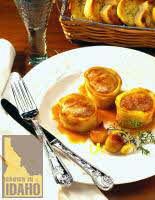 Yield: 4 servings
INGREDIENTS:
• 2 lbs Pork Tenderloin
• 2 sm. Granny Smith Apples
• 2-3 Idaho potatoes
• 1 Orange Zest
• 1 Lemon Zest
• 1/2 Butter
• 12 Shallots (peeled and roasted until browned)
• For sauté Vegetable oil

SAUCE
• 2 Shallots
• 2 cloves Garlic
• Pork Trimmings any to add
• 2 Plum Tomatoes (seeded)
• 1 sprig Thyme
• 1 QT Veal stock
• 2 oz Calvados

DIRECTIONS:
1. Preheat oven to 400ºF.

2. Cut pork tenderloin in 1½ to 2" medallions. Season with salt and pepper and sear over moderate heat until brown. When all pork has been browned, place on a plate and chill in refrigerator.

3. Using a home meat slicer or a mandolin, slice the potatoes paper-thin. Slice the peeled apples paper- thin also.

4. Remove pork from the refrigerator and season with orange and lemon zest. Wrap each medallion with an apple slice then brush each potato slice with melted butter and wrap the pork medallions.

5. Over moderate heat using a heavy sauté pan, sauté the wrapped medallions in vegetable oil, browning on all sides. Remove to an ovenproof platter and finish in oven, about 5-7 minutes.

SAUCE
1. Sauté shallots, garlic and any pork trimmings you may have until brown. Add tomatoes, thyme and veal stock.

2. Reduce gradually by half, skimming any fat or impurities as they rise to the top. When sauce has a rich texture (it should coat the back of the spoon, it is finished.

3. Remove and strain through fine mesh. Just before serving, burn off alcohol from Calvados and add to the sauce. Bring to a simmer and serve with pork.

4. Serve 3-4 medallions per order with Calvados sauce and garnish with roasted shallots and a sprig of thyme.

Idaho Potato Commission: www.idahopotato.com
Chef Jim Burke; Tuscan Grill, Waltham, MA