NEW ENGLAND PORK TENDERLOIN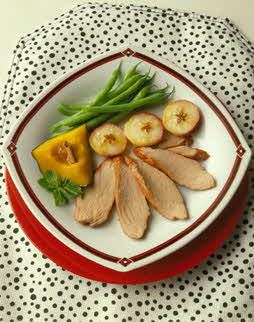 Serves 4
Ingredients
• 1 whole pork tenderloin, about one pound
• 1/4 cup apple jelly
• 2 tablespoons lemon juice
• 1/2 teaspoon pumpkin pie spice
• 2 tart red apples, unpeeled, cored, thinly sliced

Cooking Directions
Heat oven to 400 degrees F.

In small bowl, combine apple jelly, lemon juice and pumpkin spice; blend well.

Place pork tenderloin in shallow roasting pan, brush with half of the apple jelly mixture. Roast for 20-30 minutes or until meat thermometer registers 155 degrees F. Let stand 5-10 minutes.

Place apple slices on broiler pan; brush with remaining apple jelly mixture. Broil 5-6 inches from heat for about 5 minutes or until apples slices are tender.

Slice tenderloin; serve with apple slices.

Serving Suggestions
This simple roasted tenderloin is perfect for a quick autumn weeknight meal. Serve with steamed Brussels sprouts and warm dinner rolls.

Nutrition Facts
Calories 243 calories; Protein 25 grams; Fat 5 grams; Sodium 52 milligrams; Cholesterol 75 milligrams; Saturated Fat 2 grams; Carbohydrates 24 grams; Fiber 2 grams

Recipe and photo courtesy of National Pork Board. For more information about The Other White Meat, visit TheOtherWhiteMeat.com