APRICOT-MUSTARD GRILLED PORK TENDERLOIN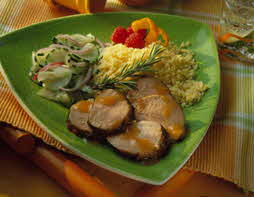 Serves 4.
Ingredients
• 1 pork tenderloin, about a pound
• 3 tablespoon apricot preserves
• 1/4 cup mustard

Cooking Directions
Season tenderloin with salt and pepper.

Stir together the preserves and mustard in a small bowl.

Place pork over a medium-hot fire and grill for about 15 minutes or until internal temperature reaches 160 degrees F., brushing with mustard mixture in the last few minutes.
Serving Suggestions
This quick and simple recipe can be served with couscous and a cool cucumber & onion salad in Italian dressing.

Nutrition Facts
Calories 213 calories; Protein 25 grams; Fat 7 grams; Sodium 221 milligrams; Cholesterol 78 milligrams; Saturated Fat 2 grams; Carbohydrates 11 grams; Fiber 1 grams

Recipe and photo courtesy of National Pork Board. For more information about The Other White Meat, visit TheOtherWhiteMeat.com