SPICY THAI SATAY DIP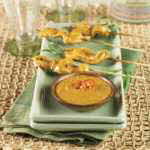 Ease the stress of holiday entertaining with this Spicy Thai Satay Dip. Great with grilled chicken tenders or shrimp that cook up quickly on an electric grill pan.
Prep Time: 10 minutes
Makes 1 cup dip

Ingredients
• 1/3 cup peanut butter
• 1/3 cup French's® Honey Mustard or French's® Honey Dijon Mustard
• 1/3 cup fat free chicken broth
• 1 tablespoon chopped peeled fresh ginger
• 1 tablespoon light brown sugar
• 1 tablespoon Frank's® REDHOT® Cayenne Pepper Sauce
• 1 tablespoon teriyaki sauce
• 1 tablespoon grated orange peel
• 2 cloves garlic, minced

Directions
1. Combine all ingredients in large bowl. Cover and refrigerate.

2. Serve with vegetables, chips or grilled meats.

FRENCH'S® Foods, a division of Reckitt Benckiser Inc., the maker of FRENCH'S® mustards, is a leading manufacturer, marketer, and distributor of food and household products. Some other well known, trusted household names in the Reckitt Benckiser Inc. family of food products include FRANK'S® REDHOT® Cayenne Pepper Sauce, FRENCH'S® French Fried Onions, CATTLEMEN'S® Barbecue Sauce, FRENCH'S® Worcestershire sauce and FRENCH'S® Potato Stix.