SIX LAYER DIP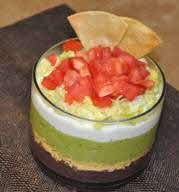 INGREDIENTS
• 1 Tablespoon extra-virgin olive oil
• 2 Cloves minced garlic
• 2- 15 Oz. cans of black beans drained and rinsed
• 2 Teaspoons chili paste
• ¾ Cup shredded low-fat cheddar cheese
• ¾ Cup shredded sharp cheddar cheese
• 2 Ripe avocados
• 1 Teaspoon kosher salt
• 2 Teaspoon fresh lemon juice
• ½ Cup chopped scallions
• ½ Cup chopped cilantro
• 1 Jalapeño pepper seeded and minced fine
• 1½ Cup plain non-fat Greek yogurt
• 2 Cups fresh diced tomato

DIRECTIONS
• Heat the oil in a sauté pan and add garlic, beans and chili paste, sauté for about 3 minutes.

• Remove from heat and add 3 teaspoons of water.

• Using a potato masher mash bean mixture until smooth.

• Spread mix in a 2-quart glass dish and scatter the cheese over the mixture.

• Cut the avocados in half and remove pit.

• Scoop out the innards of the avocado into a bowl mash ingredients with 1 teaspoon of salt and lemon juice.

• Spread the avocado mixture over the cheese.

• Set aside some of the scallions, cilantro and jalapeños for garnishing.

• Mix for non-fat Greek yogurt with the remaining scallions, cilantro and jalapeños in a blender.

• Spread this mixture over the avocado and cover with lettuce, tomatoes and finally top it with the reserved scallions, cilantro and jalapenos.

• Serve it with your favorite chips or pita chips.

* Recipe courtesy of Maria Zoitas, creator of Maria's Homemade line of prepared food sold exclusively at Westside Market NYC www.wmarketnyc.com/