HAWAIIAN COBB SALAD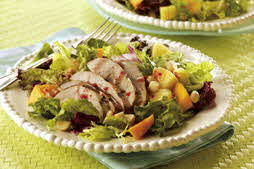 Makes 4 servings.
• 1 pound pre-marinated pork tenderloin (teriyaki recommended) *
• 1 (10 oz.) bag European Salad Mix
• 2 cups cubed fresh pineapple and mangos
• 1/2 cup chopped, toasted macadamia nuts
• 1/3 cup prepared raspberry walnut vinaigrette


Cooking Directions
Grill pre-marinated pork tenderloin over medium-high heat for 20 minutes, turning once, until internal temperature reaches 160 degrees F.

Allow pork to cool slightly, then slice into long thin strips.

Place salad greens on 4 dinner plates.

Top with pork slices, pineapple, mangos and macadamia nuts.

Drizzle with vinaigrette.

*Note: This is a great recipe for leftover pork.

Serving Suggestions
Quick and simple recipes will get you out of the kitchen and bring the family to the table. This festive third place winning Hawaiian Cobb Salad by Linda Rohr of Westport, Connecticut has big, bold flavor with little fuss.
Nutrition Facts
Calories 428 calories; Protein 36 grams; Fat 24 grams; Sodium 171 milligrams; Cholesterol 106 milligrams; Saturated Fat 5 grams; Carbohydrates 18 grams; Fiber 4 grams
Recipe and photo courtesy of National Pork Board.
For more information about The Other White Meat, visit TheOtherWhiteMeat.com