BEEF RANCH SALAD OLE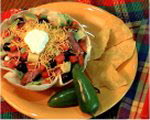 A salad to please the heartiest eater.
Prep Time: 20 minutes
Refrigerate: 1 hour to overnight
Cook Time: 15 minutes
Servings: Serves 4

Ingredients:
~ 2 Tbsp. olive oil
~ 2 Tbsp. balsamic vinegar, or 1 Tbsp. red wine vinegar
~ 1/2 tsp. dried oregano, crushed
~ 1 clove garlic, minced
~ 1 lb. sirloin or shoulder steak or 1 package fully cooked steak strips or shredded beef
~ 4 cups lettuce, or prepared salad mix
~ 1 tomato, diced
~ 1 cup chopped green onion
~ 1 can (4 oz.) sliced black olives, optional
~ 1 cup black beans, drained, optional
~ 1/2 cup grated Colby-Jack cheese
~ 4 pre-made tortilla bowls
~ Ranch dressing

Instructions:
Combine 3/4 cup picante sauce, oil, vinegar, oregano and garlic; mix well.

Place beef in zip-style bag; pour marinade mixture into bag. Seal and chill 2 hours to overnight.

Remove meat from bag, discard marinade.

Grill steak over medium-high heat to desired doneness. Slice into thin strips.

(**To substitute the fully cooked beef strips or shredded beef, heat according to package directions and continue as below.)

Meanwhile, divide evenly between tortilla bowls the lettuce, tomato, green onion, black olives, and black beans.

Top with grilled steak strips.

Sprinkle top with grated cheese and serve with Ranch Dressing and remaining picante on the side.
Recipe courtesy of Texas Beef Counci