ASIAN BEEF SALAD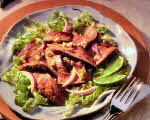 A refreshing meal in less than 30 minutes.
Prep Time: 10 minutes
Cook Time: 15 minutes
Servings: Serves 4

Ingredients:
~ 2 boneless top loin steaks, 1-inch thick (about 1¼ lbs.)
~ 1/2 medium red onion, cut into thin wedges
~ 3 Tbsp. chopped fresh cilantro
~ 4 cups torn salad greens or sliced napa cabbage
~ 2 Tbsp. chopped peanuts (optional)
Citrus-Soy Dressing:
~ 2 Tbsp. fresh lime juice
~ 2 Tbsp. soy sauce
~ 1 Tbsp. sugar
~ 2 tsp. dark sesame oil
~ 1 serrano pepper, seeded, finely chopped
~ 1 large clove garlic, minced

Instructions:
Heat large nonstick skillet over medium heat until hot.

Place beef steaks in skillet; cook 12 to 15 minutes for medium rare to medium doneness, turning once.

Remove; let stand 10 minutes.

Whisk dressing ingredients in small bowl until blended.

Carve steaks. Combine beef, onion and cilantro in medium bowl.

Add dressing; toss. Serve on salad greens. Sprinkle with peanuts.

Recipe courtesy of Texas Beef Council