CRUNCHY CHINESE PORK SALAD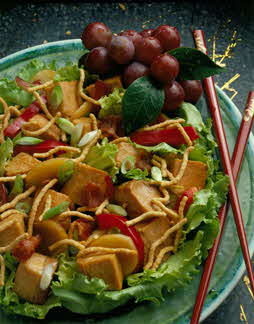 Serves 4
• 3/4 pound roast pork, cubed
• 4 slices bacon, diced
• 6 cups torn iceberg lettuce
• 1 8-ounce can sliced water chestnuts, drained
• 1/2 cup sliced green onions
• 3 tablespoons soy sauce
• 2 tablespoons honey
• 1 tablespoon ketchup
• 1 teaspoon dry mustard
• 1 3-ounce can chow mein noodles

Cooking Directions
In a large skillet, cook bacon just until crisp; drain and set aside.

In a large bowl toss together bacon, pork, lettuce, water chestnuts and green onions.

For dressing, in small bowl stir together soy sauce, honey, catsup and dry mustard.

Add dressing and chow mein noodles to salad; tossing lightly to coat.

Serving Suggestions
Intriguing flavors and textures make this main-dish salad an instant family favorite. Most of the ingredients are pantry staples. Make pork roast the night before and plan for this "planned over" supper, or purchase deli pork roast. Pair with fresh breadsticks hot from the oven.
Nutrition Facts
Calories 350 calories; Protein 28 grams; Fat 13 grams; Sodium 2150 milligrams; Cholesterol 55 milligrams; Saturated Fat 3 grams; Carbohydrates 32 grams
Recipe courtesy of National Pork Board.
For more information about The Other White Meat, visit TheOtherWhiteMeat.com