BEEF FAJITA SALAD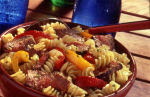 A great beef pasta salad with the flavor of fajitas you'll love.
Prep Time: 15 minutes
Refrigerate: 15 minutes
Cook Time: 20 minutes
Servings: Serves 6-8
Ingredients:
~ 1 well-trimmed boneless beef top sirloin steak, cut 1 inch thick
~ 2 red or yellow bell peppers, cut in half
~ 1 large sweet onion, cut into 1/2-inch thick slices
~ 4 cups uncooked corkscrew pasta
~ 2 Tbsp. olive oil
~ 1 Tbsp. fajita seasoning
~ 1/4 cup chopped fresh cilantro
Marinade:
~ 1/2 cup lemon juice
~ 1/4 cup olive oil
~ 4 cloves garlic, minced
~ 1 Tbsp. fajita seasoning

Instructions:
Combine marinade ingredients in small bowl. Place beef steak and 1/2 cup marinade in food-safe plastic bag; turn steak to coat. Close bag securely and marinate in refrigerator 15 minutes to 2 hours. Reserve remaining marinade.

Remove steak from marinade; discard marinade. Place steak, bell peppers and onion on grid over medium, ash-covered coals.

Grill steak, uncovered, 17 to 21 minutes for medium rare to medium doneness, turning occasionally. Grill vegetables 16 to 18 minutes or until tender, turning occasionally. Remove from grill; let stand 10 minutes.

Meanwhile cook pasta according to package directions; drain. Combine reserved marinade with 2 Tbsp. olive oil and 1 Tbsp. fajita seasoning in small bowl; whisk until blended.

Cut steak lengthwise in half; then crosswise into thin slices. Cut peppers into 1/2-inch wide strips; coarsely chop onion. Combine pasta, beef, peppers, onion, dressing and cilantro in large bowl; mix lightly.

Cover and refrigerate at least 2 hours, or overnight if desired.
Suggestions:
Use rainbow corkscrew pasta for added burst of color.
Tips:
This recipe is perfect for tailgating. Make salad ahead and refrigerate until it is thoroughly chilled. Place salad in a sealed container and pack in cooler surrounded by ice.
Recipe courtesy of Texas Beef Council