See also: Carrot Recipes
CARROTS
QUESTION
I just found your website in my search about carrots. My question is; are the fresh green carrot tops edible? Hope to hear from you soon,
Marie

ANSWER
Carrot greens are edible, and are frequently used in soups. However, there is some evidence that they may cause problems with some people if eaten in quantity, such as in a salad.
Chef James, FoodReference.com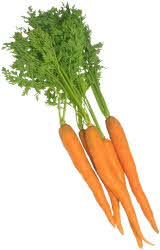 Avoid carrots with green tops, they will be bitter. The green color is caused by sunlight and is usually the result of heavy rain washing the soil away.

Large or older carrots can have a slightly bitter taste. To avoid this, slice lengthwise and remove the core.

Carrots should be stored at 35 degrees F.
To store carrots, cut the tops off and place them in a plastic bag in the vegetable crisper in your refrigerator.

A medium bunch of carrots = 1 pound
One large carrot, shredded, = 1 cup

Carry raw carrots in a sack lunch, to your next picnic, or in the car when you are on the go. There are many different ways that you can eat raw carrots, and the choices are almost endless. They can be eaten whole, in sticks, cut into rounds, and chopped or shredded in salads. Kids love the mild taste of carrots!