CHEDDAR CHEESE
A cheese's sharpness is determined by the amount of time it has been aged. With naturally aged cheddars, a mild cheddar is generally aged for 2 to 3 months, whereas an extra sharp might be aged for as long as a year or more. Cabot* offers several cheddars aged well over one year including Private Stock, aged for at least 16 months and Vintage Choice for at least 2 years.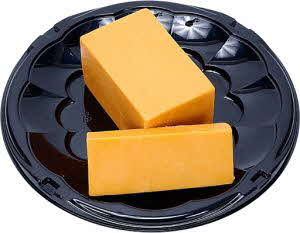 Like a fine red wine, cheddar cheese is always best served at room temperature. Allowing the cheese to sit at room temperature for 30 minutes before serving brings out the full flavor and best consistency of the cheese. So take the cheddar out of the fridge at the same time you uncork your wine and they'll both be ready to go when your guests arrive!

'Sweating' Cheese:
It's common for a small amount of moisture to develop inside cheese packaging. In most cases this moisture will be minimal; however, there are circumstances where it may be quite noticeable. In the case of more mature cheeses such as extra sharp cheddars, the proteins in the cheese will give up moisture as they age in a process known as "synerisis". This is a natural consequence of the aging process and does not damage the cheese in any way. Rather it allows the cheese to reach the next stage of maturity, that sharp crumbly texture so many cheese lovers seek. Simply wipe off any excessive moisture, wrap the cheese in fresh plastic wrap and store in the refrigerator.
*https://www.cabotcheese.coop/