CARAMBOLA or STAR FRUIT
See also: Star Fruit Article; Star Fruit Facts & Trivia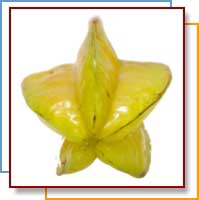 The star fruit or carambola, is a unique fruit that has a 5 pointed star shape when cut across the middle of the fruit. There are two basic varieties, one smaller and sour, the other larger and slightly sweet. (The 'sweet' varieties rarely contain more than 4% sugar.)

If picked before fully ripe, this apparently fragile fruit actually stores for a fairly long time (up to 2 weeks in the refrigerator).
Note: When at their peak ripeness and flavor, star fruit should have a very noticeable full fruity aroma.
The thin 'ribs' of the starfruit bruise easily, so handle with care. If the ribs are browning, use a vegetable peeler to shave off the darker stripe of skin.
Sweet varieties can be eaten out of hand (both skin and seeds are edible), sliced and used as a garnish or used as an ingredient in fruit or vegetable salads. Star fruit can also be used in chutneys, salsas, curries and stir fries.

Sour varieties can be used in place of lemon or lime slices for garnish with seafood, chicken or mixed drinks.

The juice can be frozen to use in fruit smoothies, tropical drinks, iced tea, sorbets, sherbets, salad dressings and marinades.

Puree alone or with other fruits to make great tasting sherbets, ices, mousses, etc. Star fruit also work well in jams and jellies.

IMPORTANT NOTE:
This warning is directed at individuals with chronic renal failure or end-stage renal disease only.
Star fruit originated in Southeast Asia and is readily available in Taiwan. Star fruit causes several symptoms in patients with chronic renal failure or end-stage renal disease.
The symptoms vary and include insomnia, intractable hiccups, agitation, muscle weakness, confusion, consciousness disturbances of various degrees, seizures, and cardiorespiratory arrest.
The various star fruit subspecies contain different toxins, including a powerful neurotoxin that is suspected to accumulate in blood, cross the blood-brain barrier in chronic renal failure patients, and eventually cause irreversible damage.
Star fruit intoxication is a neglected but serious fruit intoxication frequently observed in patients with chronic renal failure.
Because no effective treatment is currently available, patients— especially those who are newly diagnosed with chronic renal failure or end-stage renal disease—must be warned not to ingest star fruit, even in small amounts.