SUMMER STRAWBERRY AND SPINACH SALAD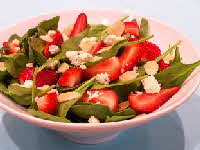 Serves 6

Salad Ingredients
• 12 cups Baby Spinach, washed
• ½ cup Almonds, sliced and toasted
• 3 cups Strawberries, washed and quartered
• 1 ½ cups Bleu Cheese
• 1 cup Yellow Bell Tomatoes, halved
Dressing Ingredients
• 4 oz. Balsamic Vinegar
• ½ tsp. Dijon Mustard
• ¼ clove fresh Garlic, minced
• 1 sprig Thyme, fresh and finely chopped
• 1 tsp. Granulated Sugar
• 1 cup Extra Virgin Olive Oil
• ¼ tsp. Salt and Pepper

METHOD
Dressing
In a 4 quart bowl whisk in vinegar, mustard, garlic, thyme, and sugar. Slowly whisk in oil so that the oil and vinegar emulsifies. Season with 3 pinches salt and 1 pinch of black pepper.

Salad
Mix spinach with almonds, blue cheese and portion uniformly into each salad bowl. Add strawberries to salad and garish with bell tomatoes around the rim of salad bowl. Finish salad by drizzling dressing over salad.

Recipe courtesy of Sebastians
Sebastians Café and Catering was established in 1994 and has developed into a niche sized but diverse food service provider, offering a high quality dining experience to a wide range of clients in the corporate and distinctive catering, retail, and corporate dining arenas in Boston and New York.