CITRUS STRAWBERRY SPINACH SALAD
Fix-It and Enjoy-It! Healthy Cookbook
Makes 12 servings
Prep. Time: 25 minutes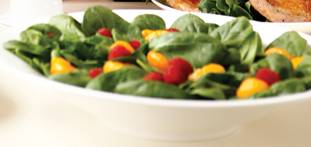 Ingredients
• 2 navel oranges, peeled and sectioned
• 1 grapefruit, peeled and sectioned
• 1 lb. (about 15 cups) fresh spinach, torn into pieces
• 1 cup strawberries, sliced
• ¼ cup thinly sliced red onion
• 2 Tbsp. chopped walnuts, toasted
• 2 Tbsp. flaxseeds, crushed

Citrus-Balsamic Vinaigrette:
• ¼ cup extra-virgin olive oil
• ¼ cup balsamic vinegar
• ¼ cup reserved orange and grapefruit juices
• ¼ tsp. pepper


Directions
1. Over a bowl, peel and section oranges and grapefruit. Reserve juices for dressing.

2. In a large bowl, arrange orange and grapefruit sections, strawberries, and onion slices on bed of spinach.

3. Sprinkle with walnuts and flaxseeds.

4. Whisk together Vinaigrette ingredients in a bowl, or combine in a jar with a tight-fitting lid and shake until well mixed.

5. Drizzle with Citrus-Balsamic Vinaigrette just before serving.


Per Serving:


Calories 91, Kilojoules 381, Protein 1 g, Carbohydrates 9 g, Total Fat 5 g, Saturated Fat 0.5 g, Monounsaturated Fat 3.5 g, Polyunsaturated Fat 1 g, Cholesterol 0 mg, Sodium 31 mg, Fiber 2 g



Pyramid Servings:


Vegetables: 1 Fruits: ½; Carbohydrates: 0; Protein & Dairy: 0; Fats: 1
Susan Guarneri, Three Lakes, WI