'MEAT & POTATOES' MEATLOAF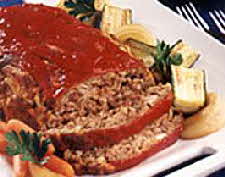 6 servings
Prep Time: 15 Minutes
Cooking Time: 1 Hr 15 Min

Ingredients
• 1½ cups refrigerated shredded hash brown potatoes
• 3/4 cup chopped onion
• 3 eggs, lightly beaten
• 2/3 cup Italian-style bread crumbs
• 2/3 cup ketchup, divided
• 1¼ teaspoons salt
• 1/2 teaspoon pepper
• 1½ pound lean ground beef

Directions
Heat oven to 375°F.

In large bowl, combine potatoes, onion, eggs, bread crumbs, 1/3 cup of the ketchup, salt and pepper; mix well.

Add ground beef; mix lightly but thoroughly.

On rack set over broiler pan, shape beef mixture in to 8 x 4-inch loaf.

Spread remaining 1/3 cup ketchup over top of loaf.

Bake 1¼ hours or until center is no longer pink and of medium (160ºF) doneness.

Let stand 5 minutes; cut into slices.

Nutrition per serving:
Calories: 470; Carbohydrates: 29g; Fat: 26g; Fiber: 1g; Cholesterol: 191mg; Protein: 27g; Sodium: 1,297mg; Potassium: n/a; Vitamin C: n/a
United States Potato Board - www.healthypotato.com