DECEMBER 24 - Today in Food History
• Christmas Eve - "Twas the night before Christmas" Children have visions of sugarplums dancing in their heads.

• National EggNog Day (EggNog Recipes)
(see also 1826 below)

• St. Adam's Day, patron of gardeners.
On this day in:
1781 Baroness Frederika von Riedesel erects the first Christmas tree in Canada at Sorel, Québec.
(Christmas Tree Trivia)

1809 Kit Carson, American frontiersman, was born. When he died May 23, 1868, his last words were supposedly "Wish I had time for just one more bowl of chili."
1818 Franz Gruber composed the music for 'Silent Night' to words written by Josef Mohr. It was sung for the first time at midnight mass in St. Nicholas Church in Oberndorf, Austria.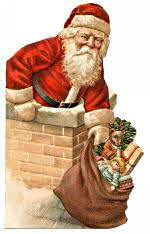 1822
Clement Moore is thought to have composed his classic poem, "A Visit from St. Nicholas" (now popularly known as "The Night Before Christmas") on December 24, 1822, while traveling home from Greenwich Village, where he had bought a turkey to fill the last of several baskets that his family was accustomed to donating to the poor during the holiday season (see also Dec 23, 1823).
(Complete text of the poem).
1826 'Eggnog Riot' at West Point military academy. When informed that their Christmas eggnog would be alcohol free, cadets in North Barrack No. 5 decided to make their own eggnog with alcohol, for a Christmas eve late night/early morning celebration. Of course it got noisy and they were caught. Shouting and general disorder developed, some swords were drawn, firewood crashed through windows, and at least one shot was fired. The artillery unit stationed at West Point had to be called in to quell the disturbance. In the aftermath 6 cadets resigned, 19 were court marshaled, and many, including a young Jefferson Davis, were confined to quarters for more than a month.
1851 A devastating fire destroyed about 35,000 books in the Library of Congress in Washington, DC.

1914 John Muir died. Muir was a naturalist who was largely responsible for the establishment of Sequoia and Yosemite national parks in California in 1890.

1919 Standard Oil founder John D. Rockefeller gave away $100 million dollars.

1919 Theophilus Van Kannel died (born 1841), inventor of the revolving door in 1888.
1967 Burt Baskin died (born Dec 17, 1913). Co-founder, with Irv Robbins, of the Baskin-Robbins ice cream parlor chain in 1946 in Glendale, California.

1968 'I Heard It Through The Grapevine' by Marvin Gaye is #1 on the charts.

2003 Canada institutes a partial ban on imported beef from the US, due to a case of mad cow disease (BSE) in a Canadian-born Holstein cow, slaughtered in Washington state.
2005 Michael Vale died (born June 28, 1922). Actor who portrayed 'Fred the Baker' in Dunkin' Donuts commercials and 'Sam Breakstone' in Kraft Foods' dairy commercials.

2006 In the Chicago suburb of Villa Park, thieves stole a semi tractor trailer filled with broccoli. It was valued at $50,000.