See also: KALE Recipes
KALE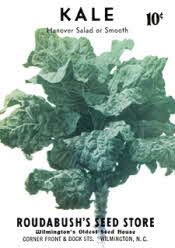 Kale (Brassica oleracea var. acephala) resembles 'wild' cabbage, and may be the ancestor to all of our modern common cabbage varieties.
Kale is a hardy and hearty green, and has been cultivated for over 2,000 years.
One cup of kale provides more than the daily requirement of vitamins A and C. It is also a good source of calcium and fiber.
Like other greens, kale descends from wild cabbage that originated in Asia Minor though it is known for it's popularity in Scandinavia, Germany, Holland and Scotland. Kale was brought to the United States in the 17th century by English settlers. It is now a favorite in the southern United States where, like many cooking greens, it has been considered a poor man's food.

With long ruffled leaves that resemble large parsley sprigs and hues that vary from lavender to chartreuse, kale has a mild cabbage-like taste and delicate texture.

Like most cooking greens, kale can grow in colder temperatures and withstand frost — which actually helps produce even sweeter leaves. Kale can also grow well in the hot weather in the southern United States and in poor soil. Kale is an excellent source of vitamin A, folic acid, and vitamin C and contains both protein and fiber.

Please feel free to link to any pages of FoodReference.com from your website.
For permission to use any of this content please E-mail: [email protected]
All contents are copyright © 1990 - 2023 James T. Ehler and www.FoodReference.com unless otherwise noted.
All rights reserved. You may copy and use portions of this website for non-commercial, personal use only.
Any other use of these materials without prior written authorization is not very nice and violates the copyright.
Please take the time to request permission.
FOOD TRIVIA and FOOD FACTS
CULINARY SCHOOLS
& COOKING CLASSES
From Amateur & Basic Cooking Classes to Professional Chef Training & Degrees
FoodReference.com (since 1999)
FOOD TRIVIA and FOOD FACTS SECTION