KIDNEY BEANS
An edible legume (Phaseolus vulgaris) whose beans (red or white) are shaped like a kidney. Native to Central and South America. Both red and white varieties are used fresh and in dried form.
See also: Red Kidney Bean Poisoning; Bean Trivia;
Bean History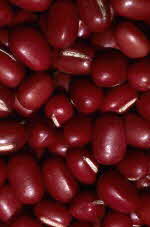 Dark Red Kidney Beans are large and kidney-shaped with a deep glossy red color. They have a solid flavor and texture. These beans are produced mainly in the northern U.S.A. and owes its popularity in America and Europe to its large size, bright color and solid texture.

Light Red Kidney Beans have a solid texture and flavor. They are characterized by their large, kidney-shape with a pink color. This bean is popular in the Caribbean region as well as in Portugal and Spain for its similarity to the canela bean.

White Kidney Beans, also known as Cannellini Beans, are a popular variety in Italy.
Flageolet Beans are a small pale green kidney shaped bean favored in France.

CULINARY SCHOOLS
& COOKING CLASSES
From Amateur & Basic Cooking Classes to Professional Chef Training & Degrees - Associates, Bachelors & Masters - More than 1,000 schools & classes listed for all 50 States, Online and Worldwide
FOOD TRIVIA and FOOD FACTS
Please feel free to link to any pages of FoodReference.com from your website.
For permission to use any of this content please E-mail: [email protected]
All contents are copyright © 1990 - 2023 James T. Ehler and www.FoodReference.com unless otherwise noted.
All rights reserved. You may copy and use portions of this website for non-commercial, personal use only.
Any other use of these materials without prior written authorization is not very nice and violates the copyright.
Please take the time to request permission.
FoodReference.com (since 1999)
FOOD TRIVIA and FOOD FACTS SECTION