See Also: Currants, dried
CURRANTS, FRESH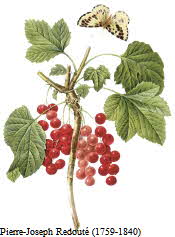 Fresh currants are small, tart red, black or white berries in the gooseberry family. Black currants are used to make Cassis liqueur.

Most fresh currants are used in jams, jellies, and preserves, and also for their juice. White currants are an albino variety of the red currant and are not as tart so they can be eaten out of hand.

Red and white currants are used to make the prized French Bar-le Duc jelly, from the town of the same name in Lorraine. Red currants are also the key ingredient of Cumberland sauce.