SHAD FACTS & TRIVIA
The Grifton Shad Festival was designated as the Official Shad Festival of North Carolina in 2011.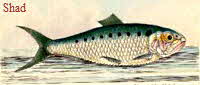 Herring is a common name for members of the family Clupeidae, consisting of numerous species of fish, including the Shad, sardine and menhaden.

In New York in 1889, the Hudson River shad catch was 4.3 million pounds.

The American shad (Alosa sapidissima) is the official state fish of Connecticut.

In Rex Stout's Nero Wolfe detective stories, shad roe was one of Wolfe's favorite foods.

Lambertville, New Jersey celebrates a Shad Festival in April of each year.
Wakefield, Virginia is host to a 'Shad Planking' in April each year. The traditional event was originally a tribute to the start of the fishing season however it soon gained a political function. The planking dates to the 1930s near Smithfield, Virginia, beginning as a small gathering of friends to celebrate the James River running of shad -- the oily, bony fish smoked for the occasion on wood planks over an open flame. Over the years, the gathering has evolved into a political gossip festival -- a place for candidates to see and be seen and for the curious to speculate about the likely winners and losers of the year's coming campaign season.
(See: Virginia Festivals)