SAVORY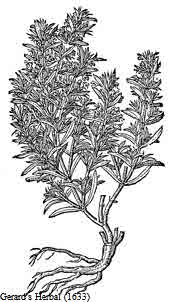 Savory is the dried leaves of the herb Satureja hortensis. The brownish-green leaves are fragrantly aromatic, resembling that of Thyme. It is commonly called summer or garden savory.

Savory, with its peppery flavor, was known to the Romans before the first lots of true pepper were imported from India. In the first century B.C., Virgil grew savory as ambrosia for his bees, believing that it made their honey taste better. In the Middle Ages, savory was used as a flavoring for cakes, pies, and puddings.

FOOD TRIVIA and FOOD FACTS
Please feel free to link to any pages of FoodReference.com from your website.
For permission to use any of this content please E-mail: [email protected]
All contents are copyright © 1990 - 2023 James T. Ehler and www.FoodReference.com unless otherwise noted.
All rights reserved. You may copy and use portions of this website for non-commercial, personal use only.
Any other use of these materials without prior written authorization is not very nice and violates the copyright.
Please take the time to request permission.


FoodReference.com (since 1999)
FOOD TRIVIA and FOOD FACTS SECTION