See also: Crabs
HORSESHOE CRAB TRIVIA
The Horseshoe Crab (Limulus polyphemus) was adopted as the official state marine animal of Delaware in 2002.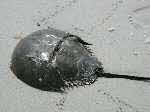 Horseshoe crabs are not eaten, but I add them here because they are so - well, weird. Nothing else looks like them, and they are actually more closely related to scorpions and spiders than to other crabs.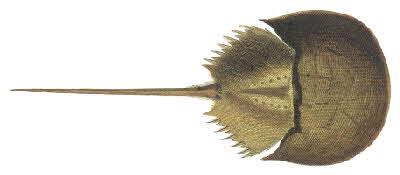 Horseshoe crabs have been around pretty much unchanged for about 300 million years. They have blue blood and can swim upside down in the open ocean. Horseshoe crabs are found world wide; they grow to about 12 inches across the back, with adult males weighing about 2 pounds and adult females about 5 pounds.