SWEET POTATOES
See Also: Sweet Potato Nutrition; Louisiana Sweet Potatoes;

Mother Nature's Best; Sweet Potato or Yam?; Trivia; Cooking Tips;

Sweet Potato Quotes; Sweet Potato Recipes

Sweet potatoes are a Native American plant that was the main source of nourishment for early homesteaders and for soldiers during the Revolutionary War. These tuberous roots are among the most nutritious foods in the vegetable kingdom. They are packed with calcium, potassium, and vitamins A and C.
This is why one colonial physician called them the "vegetable indispensable." Sweet potatoes are often confused with yams, but yams are large, starchy roots grown in Africa and Asia. Yams can grow up to 100 pounds and are rarely available in American supermarkets. Nutritionally, sweet potatoes greatly outweigh yams. Because of the common use of the term "yam," it is acceptable to use this term when referring to sweet potatoes. Sweet potatoes contain an enzyme that converts most of its starches into sugars as the potato matures. This sweetness continues to increase during storage and when they are cooked.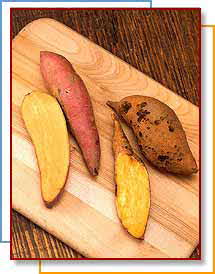 Selection
Choose firm, dark, smooth sweet potatoes without wrinkles, bruises, sprouts, or decay. Even if cut away, a decayed spot may have already caused the whole potato to take on an unpleasant flavor.
Storage
Sweet potatoes spoil rapidly. To keep them fresh, store them in a dry, cool (55-60°) place such a cellar, pantry, or garage. Do not store them in the refrigerator, where they will develop a hard core and an "off" taste. If stored properly, sweet potatoes will keep for a month or longer. At normal room temperature, they should be used within a week of purchase. You may brush off any excess dirt before storing, but do not wash them until you are ready to cook them. It is the moisture from washing that will increase their spoilage.
Preparation
Wash sweet potatoes well. Cook them whole whenever possible as most of the nutrients are next to the skin, and skins are easier to remove after they have been cooked. Pierce skin with fork. Place potatoes in a pan and cook in an oven heated to 375° F for about 45 minutes or until tender. Cool potatoes slightly before removing skins. Sweet potatoes can be cooked in a microwave oven to save time. Wash and pierce potatoes, then place them on a paper towel. The cooking time for 2 medium potatoes is on high for 5–9 minutes, and 4 potatoes, 10–13 minutes. Yellow and dark orange sweet potatoes can be used interchangeably in recipes. Try not to mix the two types in a single dish, because their different textures and cooking times may affect the outcome of the recipe. The yellow variety takes longer to cook than the orange and will be done at the upper range of cooking times.
Varieties
Although sweet potatoes are harvested in August through October, they are available in supermarkets all year. Many stores feature them at Thanksgiving and Christmas. There are two varieties of sweet potatoes; the pale yellow with a dry flesh and the dark orange with a moist flesh. The dark orange variety is plumper in shape and somewhat sweeter than the yellow variety.

Make Sweet Potatoes Part of Your 5 A Day Plan
It is easy to include sweet potatoes in your 5 A Day Plan. Use them in soups, casseroles, puddings, baked goods, or as a substitute for white potatoes in your favorite recipes. They make a nice addition to stir-fries; cut them into thin sticks so that they will cook quickly.