SWEET POTATO TRIVIA & FACTS

2.4 billion pounds of sweet potatoes were produced by major sweet potato producing states in 2014. (USDA)
1.8 billion pounds of sweet potatoes were produced by major sweet potato producing states in 2007. North Carolina (667 million pounds) produced more sweet potatoes than any other state. It was followed by California (426 million pounds). Mississippi and Louisiana also produced large amounts: at least 300 million pounds each. (US Census Bureau, October 2008)
Per Capita U.S. Sweet Potato Consumption
• In 2007 per capita consumption was 4.6 pounds.
• In 2004 per capita consumption was 4.2 pounds
• In 2004, 98,300 acres of sweet potatoes were planted in the U.S.
• In 1943 per capita consumption was 21.7 pounds.
(Louisiana Sweet Potato Commission www.sweetpotato.org )
The sweet potato is the 6th principal world food crop, and approximately 90 percent of the worlds' crop is grown in Asia.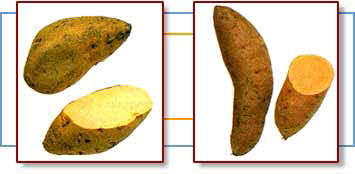 Yellow, dry fleshed & Orange, moist fleshed
Despite a physical similarity and a frequent confusion with their names, yams and sweet potatoes are not even distantly related. They are in two different botanical families. Yams are actually related to grasses and lilies
Sweet Potato Historical Facts
Sweet potatoes were grown in Peru as early as 750 BC.

Native Americans were growing sweet potatoes when Columbus arrived in 1492.

George Washington grew sweet potatoes on his farm at Mount Vernon, Virginia.

George Washington Carver worked extensively with the sweet potato. He developed 118 different products from sweet potatoes, including a mucilage for postal stamps, an economic method for sizing cotton fabrics, dehydrated food and an alternative to corn syrup. Also, in 1896, Carver was appointed head of the Agricultural Department at the Tuskegee Institute where he showed the value of soil regeneration by planting sweet potatoes as the rotation crop for cotton. Carver demonstrated successfully that a diet of peanuts and sweet potatoes could achieve nutrition economically.

In 1918, during WWI, when the supplies of wheat flour were falling behind, the USDA utilized sweet potato flour to stretch wheat flour in all baked goods.

African slaves in the South called the sweet potato "nyami" because it reminded them of the starchy, edible tuber of that name that grew in their homeland. The Senegalese word "nyami" was eventually shortened to the word "yam".
"Yam" also refers to sweet potatoes that are grown in Louisiana. When the orange-fleshed, Puerto Rican variety of sweet potatoes was adopted by Louisiana producers and shippers, they were called "yams" to distinguish them from the white-fleshed sweet potatoes grown in other parts of the country. The yam reference became the trademark for Louisiana-grown sweet potatoes.
Louisiana Sweet Potato Commission www.sweetpotato.org
Sweet potatoes are a Native American plant that was the main source of nourishment for early homesteaders and for soldiers during the Revolutionary War.
These tuberous roots are among the most nutritious foods in the vegetable kingdom. They are packed with calcium, potassium, and vitamins A and C. This is why one colonial physician called them the "vegetable indispensable."
Sweet potatoes are often confused with yams, but yams are large, starchy roots grown in Africa and Asia. Yams can grow up to 100 pounds and are rarely available in American supermarkets.
Nutritionally, sweet potatoes greatly outweigh yams. Because of the common use of the term "yam," it is acceptable to use this term when referring to sweet potatoes.
Sweet potatoes contain an enzyme that converts most of its starches into sugars as the potato matures. This sweetness continues to increase during storage and when they are cooked.
Although sweet potatoes are harvested in August through October, they are available in supermarkets all year. Many stores feature them at Thanksgiving and Christmas.
There are two varieties of sweet potatoes; the pale yellow with a dry flesh and the dark orange with a moist flesh (see picture above ). The dark orange variety is plumper in shape and somewhat sweeter than the yellow variety.
In 2003 Louisiana designated the Sweet Potato as the official State Vegetable of Louisiana.

The Sweet Potato (Ipomoea batatas) was designated as the Official Vegetable of North Carolina in 1995.

Vardaman, Mississippi claims to be the Sweet Potato Capital of the World.

The Tater Day Festival, one of the few festivals devoted to sweet potatoes, is held in Benton, Kentucky annually.
The three-day Tater Day Festival had its beginnings in 1843. Farmers from the countryside would bring their products to the town square to sell or trade on county court days. One of the things they would bring is sweet potatoes, which grow well in the Southern climate. 'Tater' is a nickname for potato.
In Benton, this eventually turned into an annual festival honoring the sweet potato, complete with a parade, carnival, and baking and canning competitions, beginning on the first Monday in April.

FREE Magazines
and other Publications
An extensive selection of free magazines and other publications
FOOD TRIVIA and FOOD FACTS
Please feel free to link to any pages of FoodReference.com from your website.
For permission to use any of this content please E-mail: [email protected]
All contents are copyright © 1990 - 2023 James T. Ehler and www.FoodReference.com unless otherwise noted.
All rights reserved. You may copy and use portions of this website for non-commercial, personal use only.
Any other use of these materials without prior written authorization is not very nice and violates the copyright.
Please take the time to request permission.


CULINARY SCHOOLS
& COOKING CLASSES
From Amateur & Basic Cooking Classes to Professional Chef Training & Degrees
FoodReference.com (since 1999)
FOOD TRIVIA and FOOD FACTS SECTION