See also: Caviar Trivia; Article on Caviar
STURGEON TRIVIA
Adult Atlantic sturgeon are anadromous fish that spend the majority of their life at sea and only enter freshwater in the spring to spawn.

On August 31, 1817 a 7½ foot 126 pound sturgeon was spotted in the Passaic River and eventually 'captured' by several townspeople. The Bergen Express & Paterson Advertiser of September 3, 1817 reports the fish was carried through town to the Passaic Hotel where it was served to the captors and their friends.
(Passaic County Historical Society: www.lambertcastle.org/)
During the American Revolution, an American officer had his leg broken when a 10 foot sturgeon leaped into his boat on the Potomac River near Georgetown.

The largest Atlantic sturgeon recorded was caught off Canada and measured 14 feet long and weighed 811 pounds.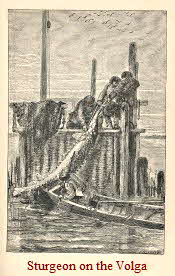 The oldest Atlantic sturgeon was captured from the St. Lawrence River and was estimated at 60 years old.

At the turn of the century, sturgeon were very commonplace and were frequently sold as 'Albany beef'.

The heaviest white sturgeon ever caught weighed 468 pounds, and was caught in 1983 by J. Pallotta in California.

The largest Beluga sturgeon was caught on May 3, 1993 in Kazakhstan. It weighed 224 pounds.

A mature female sturgeon can yield 20% of its weight in caviar.

Please feel free to link to any pages of FoodReference.com from your website.
For permission to use any of this content please E-mail: [email protected]
All contents are copyright © 1990 - 2023 James T. Ehler and www.FoodReference.com unless otherwise noted.
All rights reserved. You may copy and use portions of this website for non-commercial, personal use only.
Any other use of these materials without prior written authorization is not very nice and violates the copyright.
Please take the time to request permission.


FOOD TRIVIA and FOOD FACTS
FoodReference.com (since 1999)
FOOD TRIVIA and FOOD FACTS SECTION