SUNCHOKE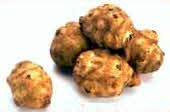 The Jerusalem artichoke (also called sunchoke) is not an artichoke, it is a North American sunflower with an edible, starchy, tuberous root. The name comes from the Italian 'girasole articiocco,' or Sunflower artichoke.

Mispronunciation in English accounts for the development of the modern name, Jerusalem artichoke.
They were cultivated by Native Americans long before the arrival of Europeans.