National Survey Reveals Potatoes are America's Favorite Vegetable
Idaho Potato Commission Conducts National Survey to Celebrate Potato Lover's Month
Recipe Below
EAGLE, Idaho, February 3, 2009 – Any way you slice it, dice it, mash it or fry it, a new survey by the Idaho Potato Commission (IPC) confirms that Americans love their spuds…so much that 75 percent of potato enthusiasts consider themselves "potato lovers." With February marking "Potato Lover's Month," the IPC is dishing on top ways Americans savor the versatile vegetable.

There's no doubt, potatoes remain a relished dish on the national table – survey results confirm that potatoes are "America's favorite vegetable." When asked to select their favorite vegetable, consumers picked potatoes (26%), corn (19%) and broccoli (17%). More than 95 percent of Americans who eat potatoes say the tuber makes it on their plate an average of two days per week, and nearly half of these admirers include the spud in their meal plan up to four or seven days!

"We've always known it, but it's now official -- potatoes are America's favorite vegetable," says Frank Muir, President/CEO, Idaho Potato Commission. "As many Americans are pinching pennies, they'll be relieved that savoring spuds numerous days during the week will not only please their palates, but also their pocketbooks!"

At approximately 25 cents per Idaho® potato, each 5.3 oz spud is packed with nutritional return on investment. In fact, one spud has only 110 calories, contains zero fat and zero cholesterol, 45% daily value of vitamin C, nearly two times as much potassium as a banana, fiber and vitamin B6 – a win for your wallet and your waistline!

Potatoes are the perfect, blank culinary canvas, but when it comes to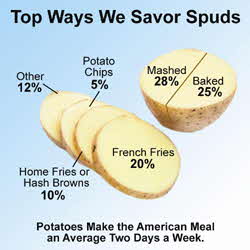 cooking up spuds, Americans keep it simple. Mashed potatoes (28%) and baked potatoes (25%) top the list of preferred preparations, with French fries (20%), home fries/hash browns (10%) and potato chips (5%) following. The beloved baked potato is favored for its easy execution and palate-pleasing versatility. However, when Americans top off their baked tater, traditional butter prevails more than 40 percent of the time, followed by sour cream (28%), cheddar cheese (11%) and bacon (7%).

And what's the culinary companion of choice for the spud? Nearly four in ten (39%) of Americans who eat potatoes claim a juicy steak and baked potato is the perfect pairing. The all-American burger and fries combo comes in a distant second, with 17 percent of the vote, followed closely by the popular holiday dish of turkey and mashed potatoes (12%), and the morning mainstay of eggs and home fries (11%).

Whether you're a "potato lover" or an occasional admirer, there are many ways to enjoy a nutritious, delicious spud. For tasty recipes and tuber tips, visit www.IdahoPotato.com. The IPC "Potato Lover's Month" survey was conducted by Kelton Research. Survey results are available upon request.


RECIPE
AS GOOD AS MASHED POTATOES

Yield: 4 - 6 servings
Ingredients:
• 4 medium Idaho® potatoes (about 1½ pounds), scrubbed
• 1Ό cups water
• 4 cloves garlic, minced
• 4 tbsp. parsley, chopped
• 3 dashes Tabasco® pepper sauce
• 1 tsp. salt
• 1 tsp. yellow mustard
• 2 tsp. grainy mustard
• 2 tsp. prepared horseradish
• 1/4 cup fat-free sour cream

Directions:
Pare the potatoes or leave skin on, according to taste. Cut into 1-inch cubes and place in heavy medium saucepan. Add water, garlic, parsley, Tabasco and salt. Bring to a boil over medium-high heat.

Reduce heat, cover and let cook for about 20 minutes, stirring and breaking potatoes up with a fork. Add more hot water if potatoes seem too dry.

Continue stirring and mashing potatoes for about 5 minutes until the water is absorbed and the potatoes are soft and lumpy.
Remove from heat, stir in the mustards, horseradish and sour cream.
Nutritional Analysis:
Calories, 110; Cholesterol, 0 mg.; Sodium, 447 mg.; Protein, 3 g.; Carbohydrate, 25 g.; Fat, 0 g.

The Idaho Potato Commission is a state agency that is primarily responsible for expanding the markets for Idaho grown potatoes through advertising, promotion and research. The Commission also protects the use of the "Idaho® potato" and "Grown in Idaho®" seals, which are federally registered Certification Marks that belong to the IPC. These Marks ensure that consumers are purchasing potatoes that have been grown in the state of Idaho.