Sunchoke or Jerusalem Artichoke
A relative of the sunflower, this vegetable is native to America, not Jerusalem, and has no botanical relation to artichokes. In fact, these tubers are actually a member of the Sunflower family. The white flesh is nutty, sweet and crunchy like chestnuts when raw. Baked in their skins, they become more like potatoes with a mild taste of artichoke hearts.

The Jerusalem artichoke is widely grown in gardens in Texas and is harvested in the fall for highest quality. Widely available in supermarkets, its peak period is September through January, but often continues through the early spring.
Select firm sunchokes that are firm and free from mold and wrinkles. Sunchokes vary in color where their shades range from dark brown to light brown in color, similar to ginger.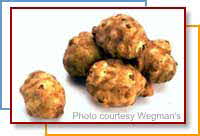 These tubers need be refrigerated, unwashed, in a plastic bag for up to 1 week for successful storage.
* Percent Daily Values are based on a 2,000 calorie diet.