SALSIFY (OYSTER PLANT)
Salsify is called vegetable oyster because of its faint oyster-like flavor. This name is used interchangeably to describe two roots.
White salsify is pale, thin, forked, has rootlets at the bottom, while black salsify (scorzonera) looks like a brown carrot and is much smoother and longer looking. Popular in Europe since the 16th century, this root has just begun to make its appearance in markets.
Availability, Selection, Storage, and Preparation
This root is available from fall to early spring. Select medium size roots that are smooth and firm. Larger roots are more fibrous and smaller roots have less meat. White salsify is sold in bunches with leaves still attached. Black salsify is usually sold without leaves and in plastic bags. Salsify will last 2 weeks wrapped in plastic and stored in the refrigerator. Prepare salsify by scrubbing with a brush, removing the skin, rootlets, and all dark spots. Trim the tops and bottoms and slice as you would a carrot or leave whole. Avoid overcooking this root as it will quickly turn into mush.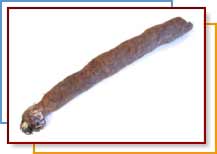 Make Salsify Part of Your 5 to 9 A Day Plan!
- Steam salsify and serve with your favorite vinaigrette as a delicious side dish.
- Add sliced salsify to all your soups and stews for added flavor interest.
- Serve mashed salsify instead of the usual mashed potatoes.
- Make salsify pureed soup by pureeing salsify, adding your favorite herbs and spices, and serving it with whole grain rolls for a satisfying lunch or dinner.
This earthy tasting, relatively obscure root vegetable, can reach 1.20 meters.
Salsify must be peeled, blanched and sautéed or roasted and has a taste akin to oysters; hence its name oyster plant.
It grows wild in Europe and requires a long warm season for full maturation.
Black salsify is grown in Spain and possesses a similar taste to its white counterpart.
A few farmers specializing in organic produce grow salsify in North America.
Most of the oyster plant used in restaurants is canned and imported.
Salsify goes very well with roasted beef and can be used in stews, and cream soups.

Nutrition
Serving Size ½ cup
Amounts Per Serving % Daily Value
Calories 50
Calories from Fat 0
Total Fat 0g 0%
Cholesterol 0mg 0%
Sodium 15mg 1%
Total Carbohydrate 12g 4%
Dietary Fiber 2g 8%
Sugars 2g
Protein 2g
Vitamin A 0%
Vitamin C 8%
Calcium 4%
Iron 2%
* Percent Daily Values are based on a 2,000 calorie diet.